Introduction
The societies around us are in rapid transition. Digital solutions and technology are strongly present, and the importance of networks is growing. The COVID-19 pandemic accelerated social change, especially in terms of digitalization and technology.
The changes are also strongly present in working life, which forces us to re-think our education and its structures. The education sector must be able to respond to changes and new requirements of the future.
The key questions are:
What kind of new skills are required in working life?
How can education meet the needs of working life effectively? What kind of structural changes are needed?
How can collaboration with the surrounding society and communities be strengthened?
.
It is important that students acquire working life experience already during their studies because it supports the readiness to enter working life after graduation. Studying in a classroom is not the best or at least the only solution for this. The concept of service learning and e-service learning are great and useful methods for deepening learning and understanding, but also accumulating practical working life skills. All in all, learning is not just about the knowledge and skills learned at a certain moment. Learning is a lifelong process in which the ability to apply knowledge and the ability to think develop.
It is essential to learn how to learn and apply what you have learned.
In addition, it is known that learning no longer only takes place in the structures provided by educational institutions. The importance of non-formal learning and informal learning are also highlighted alongside formal learning.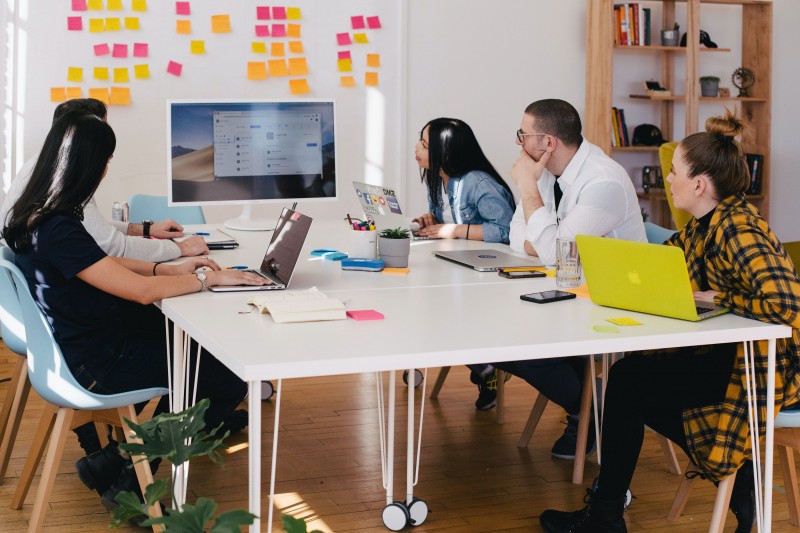 E-service learning
Service learning (SL) and e-service learning (eSL or vSL) are pedagogical approaches in which students work actively in multidisciplinary networks with real-life problems. Even though the learning takes place outside the classroom walls, it is strongly related to the curriculum. (Practical guide on e-Service-Learning in response to COVID-19, 2020.) Service learning and e-service learning deepen what has been learned on a practical level, which is crucial in many sectors such as creative industries. The key to learning is to be able to work actively with the challenges and opportunities of real life. Service learning and e-service learning are approaches that blurs the boundaries of traditional education, and where competence and learning is recognized in a new way. (Practical guide on e-Service-Learning in response to COVID-19, 2020.)
What separates e-service learning from traditional service learning is the strong utilization of digital methods, tools, and environments. In e-service learning, activities are either partly or entirely in digital environments. Thus, digital tools enable, for example, activities without geographical restrictions (Waldner, McGorry & Widener 2012). It can be said that e-service learning has developed as part of a wider social development, during which the importance of digital methods, platforms and technology has begun to be emphasized. The change was further accelerated by the COVID 19 pandemic, during which the use of digital methods increased even more. All in all, it is known that the use of digital methods and platforms in working life is an increasingly important part of working life skills.
E-service learning is great opportunity to learn by doing, get supported and working life-oriented experience. Hence it is good to pay attention to planning the implementation. It is important to ensure that the student receives, for example, sufficient support and feels that she or he is part of the team, even though working remotely. To improve learning experience, e-service learning also includes guidance and reflection (Practical guide on e-Service-Learning in response to COVID-19, 2020). In addition, according to Michael J. Figuccio (2020) "In e-service-learning, students have regular contact with their instructor, peers, and community partner". E-service learning is both guided and supported activity at its best, but it is also an opportunity for students to network.
Possible obstacles to overcome
As previously mentioned, the surrounding societies and communities are increasingly networked. The concept of e-service learning enables building bridges between different industries. However, working in multidisciplinary networks requires co-operation skills and the ability to look at things from new and different perspectives. In addition, actors from different industries and backgrounds must be able to find and use shared professional language. Even conflicts can occur when different operating models and needs are reconciled. The key is the ability to find workable solutions by harmonizing different ways and ideas. On the other hand, in multidisciplinary collaboration, there must be an opportunity to challenge and permission to ask why things are done in a certain way.
A stupid question is the question not asked.
Key considerations

What issues or challenges come up? How are they solved? What can be learned from conflict situations or challenges? How can newly learned and new information be disseminated?
At best, difficult situations open a new way of thinking for the entire group of actors and are great places for learning. Thus, the questions that arise benefit all parties involved. Service learning and e-service learning can be, at their best, a learning process for the entire group of actors, which helps structure own activities.
Aspects related to structures, financial and even legislation can sometimes cause challenges in the implementation of e-service learning. If the use of platforms and softwares is heavily regulated in the industry, building cooperation can sometimes require a special effort. For example, in the social and health sector, data protection and information security are more regulated. To ensure a functioning collaboration, it is necessary to ensure that there are suitable channels, platforms and software for cooperation and activities. On the other hand, it is also important to remember when planning the e-service concept that students may need support in utilizing digital methods and techniques (Waldner, McGorry & Widener 2012.)
Creative Communities Podcast Playlist 
Conclusion
It can be summarized that the successful implementation of e-service learning requires an understanding of substance and pedagogy, but also understanding of the impact of digitalization on work and learning. At their best, service learning and e-service learning are methods that strongly promote students' civic engagement and learning. (Waldner, McGorry & Widener 2012).
Table 1 summarizes the strengths and opportunities of e-service learning, but also the challenges. The ability to turn challenges into opportunities and strengths is essential. It's not always easy, but tackling the possible challenges is rewarding at best.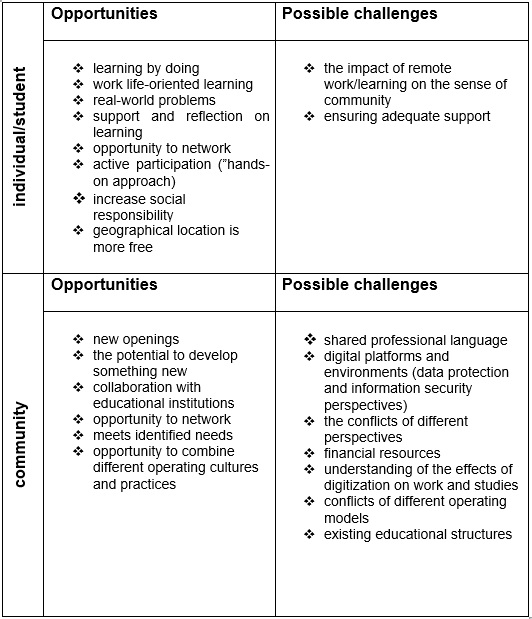 The information is based on the following references
Albanesi, C., Culcasi, I & Zunszain, P. (edit.) (2020). Practical guide on e-service learning in response to COVID-19. (other information???) In cooperation: The European Association of Service-Learning in Higher Education (EASLHE), Pacto de América Latina por la Educación con Calidad Humanam (Palech) and the European Observatory of Service-Learning in Higher Education and the National Distance Education University (UNED) https://www.eoslhe.eu/wp-content/uploads/2020/10/Practical-guide-on-e-Service-Learning_web.pdf
Figuccio, Michael. J. (2020) Examiting the Efficacy of E-Service-Learning. Department of Psychology, Farmingdale State College, Oyster Bay, NY, United States https://www.frontiersin.org/articles/10.3389/feduc.2020.606451/full
Leora S. Waldner, Sue Y. McGorry, and Murray C. Widener (2012) E-Service-Learning: The Evolution of Service-Learning to Engage a Growing Online Student Population. Journal of Higher Education Outreach and Engagement, Volume 16, Number 2. University of Georgia. All rights reserved. ISSN 1534-6104 https://files.eric.ed.gov/fulltext/EJ975813.pdf