Sean Branagan,  director of the Center for Digital Media Entrepreneurship and an adjunct faculty member in the S.I. Newhouse School of Public Communications will hope to answer the burning question, "What's next in the digital media entrepreneurship space?
Branagan was awarded the prestigious grant to teach a digital media entrepreneurship course at cutting-edge Tallinn University. He'll work with students and faculty at the public research university's film, media and arts school and with community entrepreneurs for six weeks.
As part of the larger Fulbright Program hosted by the U.S. Department of State, his Fulbright Specialist grant is one of 400 typically awarded each year to professionals and academics to share expertise, strengthen institutional partnerships, and gain international and other-cultures experiences. The grants are awarded based on academic and professional achievement, demonstrated leadership and the potential to foster cooperation.
Tallinn University is one of the three largest higher education institutions in Estonia and is ranked among the top 1,000 universities in the world. It promotes achieving an "intelligent lifestyle" through education, research and cross-discipline collaborations to promote citizens' well-being and to improve society.
A Digital Nirvana
The digital media landscape is at another moment of acceleration, Branagan says, and that's what prompted his interest in the Fulbright Specialist program as he and his peers started asking, "What's next after the pandemic?"
Estonia is a perfect place to assess how the digital media future might unfold, he says.
"It's one of the most digital countries in Europe and maybe one of the most digital countries in the world. It's the Silicon Valley of Europe, yet with just 1.3 million people, it has the highest concentration of entrepreneurs and entrepreneurial 'unicorns' in a community that's just a fraction of Silicon Valley's size."
Take Chances Now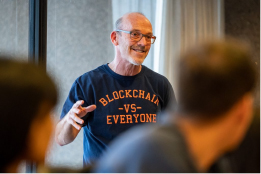 Branagan plans to optimize the current disruptive state, a business environment ripe for innovation and a world more accepting of change to teach Estonian students to take chances and create new types of media right now. He foresees a whole new group of creative lifestyle and small businesses, new media platforms and new business models emerging from this time.
"Right now, it's all Game On. It feels like 2006 again, and I think we're about to see another 20 years of major disruption taking place in the media world. There'll be new players, new centers of media, new films coming out of unusual places. It's going to be a mix and match of things that used to be very distinct. So, it's opportunity time again," Branagan says. "New voices, new media owners and new kinds of media create new narratives that change our culture and society. Media entrepreneurship is powerful. It's a very accessible type of entrepreneuring. I see it as a force multiplier for social change."
Branagan has been teaching digital media entrepreneurship since 2011, when the late Newhouse School Dean Emerita Lorraine Branham "took a chance on me," he says, and established the Center for Digital Media Entrepreneurship.
Credit – https://news.syr.edu/blog/2022/05/03/branagan-awarded-fulbright-specialist-grant-for-estonia-digital-media-innovation-project/